Filmography Thomas Hezel
Pre-thoughts on contemporary filmmaking
Behind every single film there are many preparation days, several days of shooting and countless camera setups. Behind every camera setup is the effort and the passion for quality that must be achieved within the timeframe, and the budget.
Today almost every film is a product. This product has to be produced with its respective properties for a specific market (broadcast slot, screening time, audience). There is a product framework that must be adhered to in accordance with the experiences and expectations of broadcasters, producers, distributors, cinema operators and streaming services.
The challenge is to work as creatively as possible (without going beyound the boundaries) within this product framework, under the given conditions (money, time and environmental conditions such as the weather) and to output the highest film quality as possible. What often is misunderstood, is that "quality", in this context, always refers to the respective product framework, not to cinematic work in general. This very often leads to the false argument that filmmakers in Germany would not be able to make a "good" movie. The term "good" usually refers in this context to the comparison with a successful foreign cinema film, which was created under the premises of an individual, creative process. Or it was created within a product framework and has become fortuitous or fortunately (as a side effect) a unique piece of creative work.
The cinematic process of "creation" has changed radically in the media age, over the past 20 years, as it is now always surrounded by a product framework, that aims towards marketing for a very specific audience.
That's why you can not talk about "making films" any more. It's much clearer and more straight foreward when you talk about producing "cinematic products". This applies to all types of online, television and cinema films produced in Germany, with the exception of low or no-budget films that do not want to, or can not achieve significant audience numbers. The film, which in its basic features is devoted to dramaturgy or artistic impetus (in the framework of normal budgets), presents too great a risk in the ebullient media landscape, so that nobody will be able or willing to finance it. Perhaps Wim Wenders is the last great figure of German cinema, who can still devote himself to a creative idea and then in the end - just because, or nevertheless - reaches a considerable audience for refinancing. All other directors must, or only want, to act within the explicitly set or implicitly expected product framework.
The creative process of the director thus needs a self-reflection of his own impulses, decisions and evaluations in every moment of the cinematic creation, in order to channel them into the product framework.
"Film-making", to the extent that it is intended to create a living for all involved, has become a very complex process, in the balance between creative impulses and the predefined form of the framework. Any claim by filmmakers to "make a unique movie" (with a relevant budget) may be a well-intentioned, but objectively illusory apperception.
This can be regretted or denied, but it is certainly more effective to become aware of it and to act accordingly. In the longer term we have to seek for new markets with different requirements, or even better develop the markets ourselves in the interlinkage between "creativity" and the opportunities of the "digital" - but this also has to be financed.
Producer and Director Thomas Hezel – Corporate Films
"Odesa – an opera in exile"

– Documentaion – Germany

"33 Exercise Videos - Rehabilitation Clinic Überruh"

– Isny im Allgäu – Germany

"Rempp Impact Extrusion – Imagefilm"

– Fluorn-Winzeln – Germany

"West African German Centre for Local Governance in Africa (CEGLA)"

– University Niamey, Niger / University Bamako, Mali / African Centre for Higher Studies in Management, Senegal

"Kenyan-German Centre of Excellence for Mining, Environmental Engineering and Resource Management"

– University Voi

"Afican Excellence Alumni Meeting Cape Town"

– University of the Western Cape – South Africa

"East and South African-German Centre for Educational Research - CERM-ESA"

– University Eldoret

"Ghanaian-German Centre for Development Studies"

– University of Ghana

"Congolese-German Centre for Microfinance"

– Université Protestante au Congo

"Namibian-German Centre for Logistics"

– Namibia University of Science and Technology

"South African-German Centre for Development Research"

– University of the Western Cape

"South African-German Centre for Transnational Criminal Justice"

– University of the Western Cape

"Annual Logistics Workshop Namibia"

– Walvis Bay Namibia

"MICHELFELDER Holding"

– Fluorn-Winzeln – Germany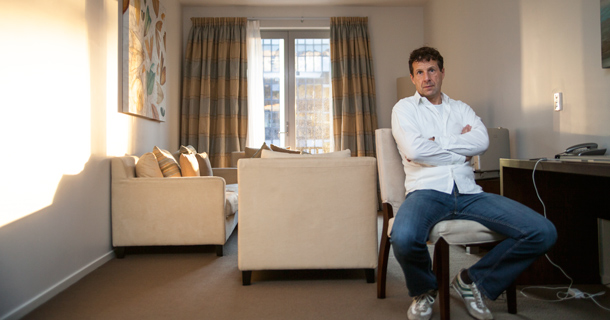 Director – TV
"Rosamunde Pilcher – Ungezügelt ins Glück" / FFP New Media / ZDF
Location: England / Audience: 6,81 Million / Market Share: 18,1%

"Das Traumschiff – Bali" / Polyphon International / ZDF
Location: Bali, South America / Audience: 8,24 Million / Market Share: 21,8%

"Sehnsucht nach Paradise Island – Emilie Richards" / Polyphon International / ZDF
Location: New Zealand / Audience: 5,3 Million / Market Share: 15,2%

"Inga Lindström – Schatten der Vergangenheit" / Polyphon International / ZDF
Location: Sweden / Audience: 6,03 Million / Market Share: 15,8%

"Das Paradies am Ende der Welt – Emilie Richards" / Polyphon International / ZDF
Location: New Zealand / Audience: 5,36 Million / Market Share: 17,1%

"Rosamunde Pilcher – Sommer der Liebe" / FFP New Media / ZDF
Location: England / Audience: 7,13 Million / Market Share: 20,2%

"Rosamunde Pilcher – Über den Wolken" / FFP New Media / ZDF
Location: England / Audience: 6,58 Million / Market Share: 19,3%

"Großstadtrevier – Folge Johnny" / Studio Hamburg / NDR / Germany
Audience: 5,68 Million / Market Share: 21,4%
Idea, Exposé and Script Consultant
"Zwei verlorene Schafe"

– Exposé – ZDF 2016 (working title: "Julius hilft") – Hager Moss Film

"Emilie Richards – Das Paradies am Ender der Welt"

– 2010 ZDF – Polyphon – script doctor

"Rosamunde Pilcher – Sommer der Liebe"

– 2006 ZDF – script doctor

"Süße Datteln"

– Exposé together with Petra Challouf – TV60 Filmproduktion – DEGETO 2012 ("Heiraten ist auch keine Lösung") and also ZDF 2010 ("Ein Sommer in Marrakesch")

"Kommissar Rex"

(working title: "Mein Polizeihund") Producer: Klaus André/Thomas Teubner – idea
1st Assistant Director and other
"Das Traumschiff – Burma-Myanmar"

/ Myanmar – South America / Polyphon
Director: M. Steinke

"Das Traumschiff – Singapur-Bali"

/ Singapur – Bali – South America / Polyphon
Director: M. Steinke

"Das Traumschiff – Vancouver"

/ Canada – USA - Caribbean / Polyphon
Director: K. Meeder

"Sophie die Assistentin"

/ Serial / Allmedia
Director: B. Müller

"Tatort-Der Name der Orchidee"

/ SWR
Director: J. Bretzinger

"I. Lindström-Begegnung am Meer"

/ Sweden / Bavaria Filmproduktion
Director: K. Meeder

"I. Lindström-Sehnsucht nach Marielund"

/ Sweden / Bavaria Filmproduktion
Director: K. Meeder

"Meine Mutter, mein erster Freund und Ich"

/ TV-Movie / Dreamtool
Director: A. Ernst

"Das Traumschiff – Sri Lanka"

/ Hong Kong – Sri Lanka / Polyphon
Director: K. Meeder

"Polizeiruf 110 – Mama kommt bald wieder"

/ TV-Movie / Saxonia
Director: J. Bretzinger

"Der Glücksbote"

/ 2 TV-Movies / Polyphon
Director: K. Meeder

"Auch Erben will gelernt sein"

/ TV-Movie / Graf Film
Director: K. Meeder

"Wolffs Revier"

/ Serial / Nostro Film
Director: J. Bretzinger

"Eastern & Oriental Express"

/ Singapur – Malaysia - Thailand / Polyphon
Director: H. Werner

"Das Traumschiff – Bermuda"

/ Brazil – Bermuda / Polyphon
Director: K. Meeder

"Off Road"

/ Serial / Senegal / Berengar Pfahl
Director: J. Bretzinger

"Tatort – Tot vor Scharhörn"

/ TV-Movie / Studio Hamburg
Director: J. Bretzinger

"Puma 5 & 6"

/ Serial / Nostro Film
Director: J. Bretzinger/Donnie Yen

"Tatort – Der schwarze Skorpion"

/ TV-Movie / Studio Hamburg
Director: H. Förnbacher

"Entscheidung im Busch"

/ TV-Movie / South Africa / Objektiv Film
Director: R. Engel

"Die Biester"

/ Serial / Die Berliner Produktion
Director: J. Bretzinger

"Tatort – Der Duft des Geldes"

/ TV-Movie / Studio Hamburg
Director: H. Förnbacher

"Zielfander 10 &11"

/Serial /Nova Film
Director: J. Bretzinger

"Ein Starkes Team-Der letzte Kampf"

/ TV-Movie / Westdeutsche Universum
Director: J. Schäuffelen

"Im Namen des Gesetzes"

/ Serial / Opal Film
Director: O. Götz

"Tatort - Habgier"

/ TV-Movie / Studio Hamburg
Director: J. Bretzinger

"Ein Starkes Team-Braunauge"

/ TV-Movie / Westdeutsche Universum
Director: J. Schäuffelen

"Das Glück liegt hinterm Deich"

/ TV-Movie / Akzente Film
Director: J. Bretzinger

"Die Fremde in meiner Brust"

/ TV-Movie / Calypso Film
Director: D. O.-Girard

"Chiemsee Kapitän"

/ TV-Movie / Arbor Film
Director: J. Bretzinger

"Girl Friends"

/ Serial / Objektiv Film
Director: R. Engel

"Tatort - Undercover Camping"

/ TV-Movie / Studio Hamburg
Director: J. Bretzinger

"Im Namen des Gesetzes"

/ Serial / Opal Film
Director: L. Hans

"Dr. Mad"

/ TV-Movie / Akzente Film
Director: J. Bretzinger

"Soko"

/ Serial / Ufa-München
Director: J. Bretzinger

"Tresko"

/ TV-Movie / Telefilm Saar
Director: G. Gräwert

"Im Himmel hört dich niemand weinen"

/ Kino / Dark Room Pictures
Director: C. Rola

"Die Stadtindianer"

/ Serial / Phönix-Film
Director: C. Rola

"Enemy at the Gates"

/ Kino / Germany / Duel Filmproduktion – Studio Babelsberg
Director: Jean-Jacques Annaud

"Go for Gold"

/ Kino/ Germany - Spain / Wim Wenders Filmproduktion
Director: Lucian Segura

"The Ogre"

/ Kino / Poland - Germany - France - Norway /Studio Babelsberg
Director: Volker Schlöndorff

"Mit verbundenen Augen"

/ TV-Movie / Phönix-Film
Director: M. Vajda

"Zappek"

/ Serial / Ufa-Fernsehproduktion
Director: J. Bretzinger

"Spreebogen"

/ TV-Movie / filmpool Film- und Fernsehproduktion
Director: K. Sabrautzky

"La Gioconda"

/ TV-Movie / Germany - Italy / Radio Bremen
Director: K. Sabrautzky

"Im Namen des Gesetzes"

/ Serial / Opal Film
Director: S. Eckhard

"Racing Star"

/ 2-Teiler / Afrika / Real Film
Director: J. Bretzinger

"Hörigkeit des Herzens"

/ TV-Movie / Phönix-Film
Director: C. Rola

"Tafelspitz"

/ Kino / Germany - Canada - USA / TV 60
Director: X. Schwarzenberger

"Ein Mann für jede Tonart"

/ Kino / Polyphon
Director: Peter Timm

"Die Hoffnung hat einen Namen"

/ Fernsehsp. / Germany – Italy / Phönix-Film /
Director : F. J. Gottlieb

"Eine Frau in den allerbesten Jahren"

/ TV-Movie / Phönix-Film /
Director: R. v. Sydow

"Ein Heim für Tiere"

/ Serial / Phönix-Film /
Director: diverse

"Der Deal"

/ TV-Movie / Fritz-Wagner Film /
Director: H.C. Görlitz

"Die Mauerbrockenbande"

/ Kino / Regina Ziegler Filmprod. /
Director: K.-H. Lotz

"Die Spreepiraten"

/ Serial / Regina Ziegler Filmprod. /
Director: Henning Borgelt